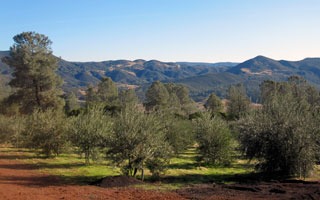 The Villa Barone is located on a 160-acre ranch in the Jerusalem Valley in Lake County, California. The area is famous for its clean air and open spaces.
The County is dominated by volcanic features such as Mt. Konocti, Clear Lake and numerous hot springs and geothermal wells for clean steam energy generation.
The Villa Barone ranch has over 10 acres or organic olive trees specifically chosen to produce world-class olive oil.
Founded in 2001 the Villa Barone started as an organic olive orchard. Since then we added a sunstainably managed farm where we raise sheep, goats, hogs, rabbits, chickens, ducks and turkeys. We now also offer accommodations at our bed & breakfast and for those who want to experience life on the farm we offer the Lake County Farm Adventure. A full immersion farm experience.
We are members of the
California Olive Oil Council
as well as members of the
Lake County Chamber of Commerce
and the
Lake County Community Co-op
.