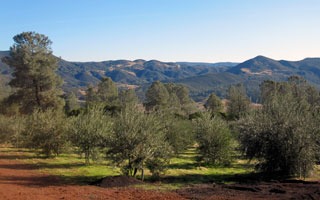 The Villa Barone is located on a 160-acre ranch in the Jerusalem Valley in Lake County, California. The area is famous for its clean air and open spaces.
The County is dominated by volcanic features such as Mt. Konocti, Clear Lake and numerous hot springs and geothermal wells for clean steam energy generation.
The Villa Barone ranch has over 800 olive trees specifically chosen to produce world-class olive oil.
Founded in 2001 the Villa Barone was created to accomplish three missions. The first is to produce world-class olive oil. The second is to provide a source of locally grown, humane & sustainable foods. Finally the Villa Barone is a source of exquisite soaps and other healthy products with their origins in olive oil, a return to simpler preparation methods that avoid or limit preservatives and other stabilizing chemicals.
We are members of the
California Olive Oil Council
as well as members of the
California Farm Bureau
and the
Lake County Community Co-op
.